I've been pretty open sharing about my engagement on social media, and one of the questions I've been asked the most is "are you going to make your own wedding cake?!?"
In the process of making this decision, I weighed a few important factors.
I also thought through all the logistics of making and transporting a wedding cake.
Why I'm Making My Own Wedding Cake
While most girls dream about their wedding dress or venue, I daydream about my wedding cake.
How I'll decorate our cake, what flavors it will be, even what cake stand I'll put it on!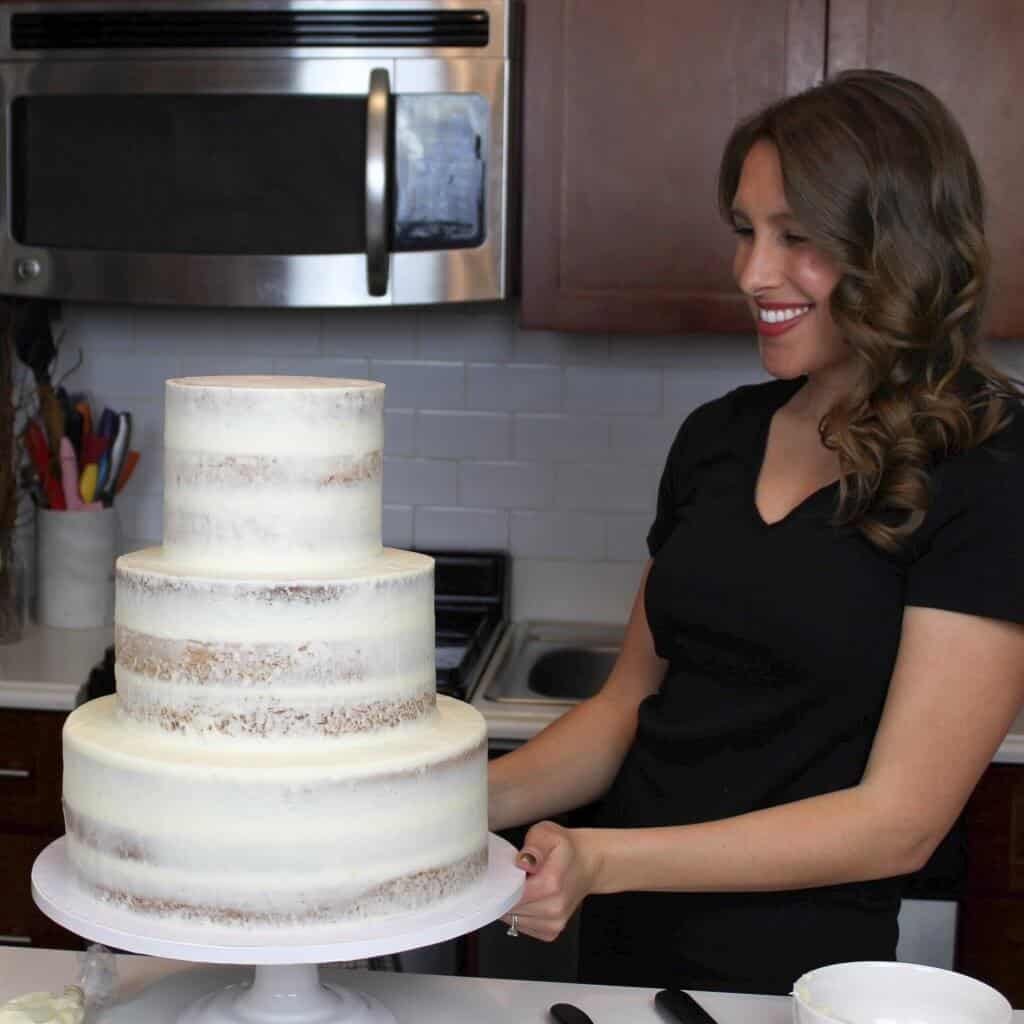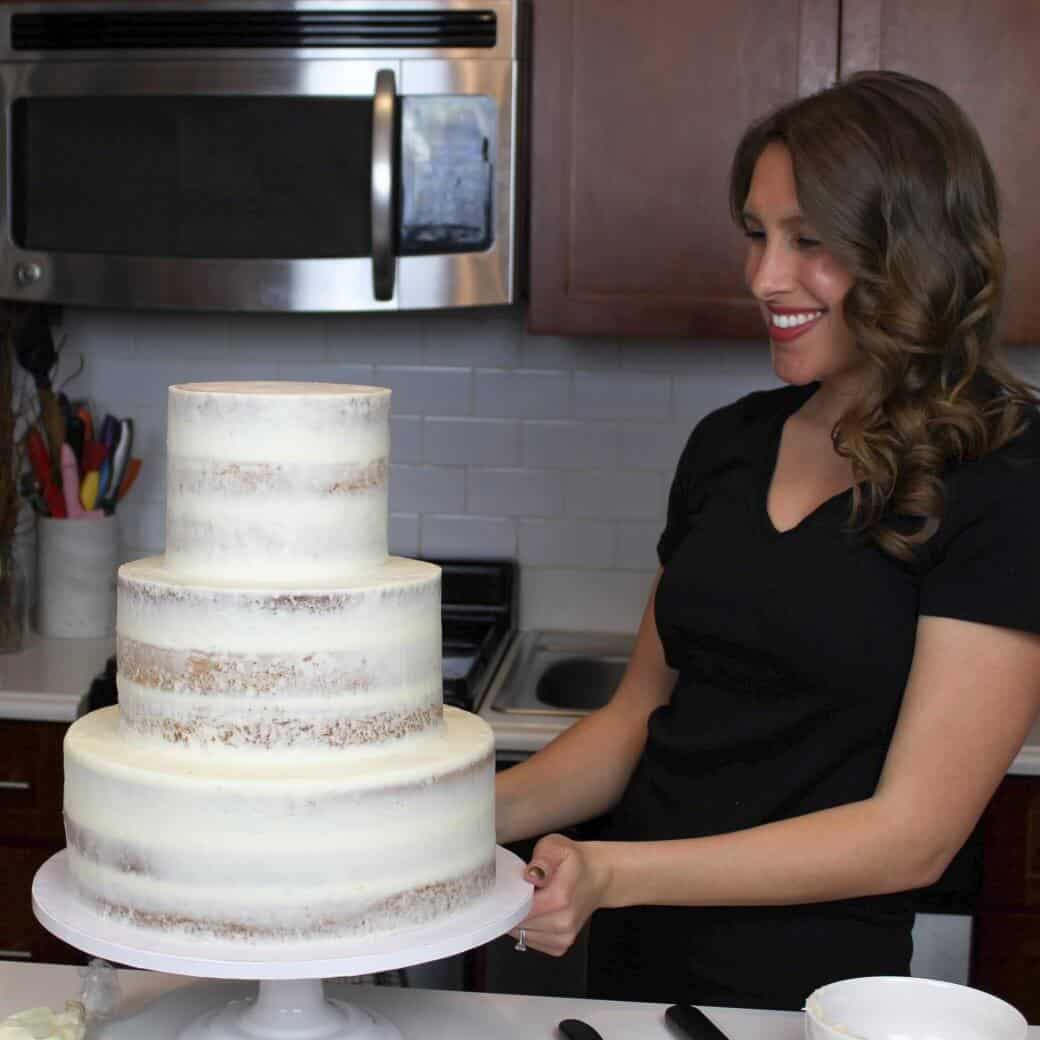 Is it crazy to make your own wedding cake?? A little, but I'm planning to!
There are a lot of factors behind this decision, which include:
Saving money
Having the skills/ability to make a tiered cake
Committing to making a practice cake
Planning to make my wedding cake in advance
Loving to bake
Choosing a simple wedding cake with easy decorations
I'm not saying this is the right decision for most people, but it felt right for me.
Making my own wedding cake is something I'm looking forward to. It's just an added bonus that it's a great way to save money!!
Saving Money
It's no secret that I am extremely frugal! The thought of paying someone else to do something I'm capable of doing myself seems silly.
Tiered wedding cakes can be extremely expensive, and making your own wedding cake can be a great way to save money.
Wedding cakes usually run $4-$6 per serving. With that in mind, the price of a wedding cake can add up quickly if you plan to have a big wedding!!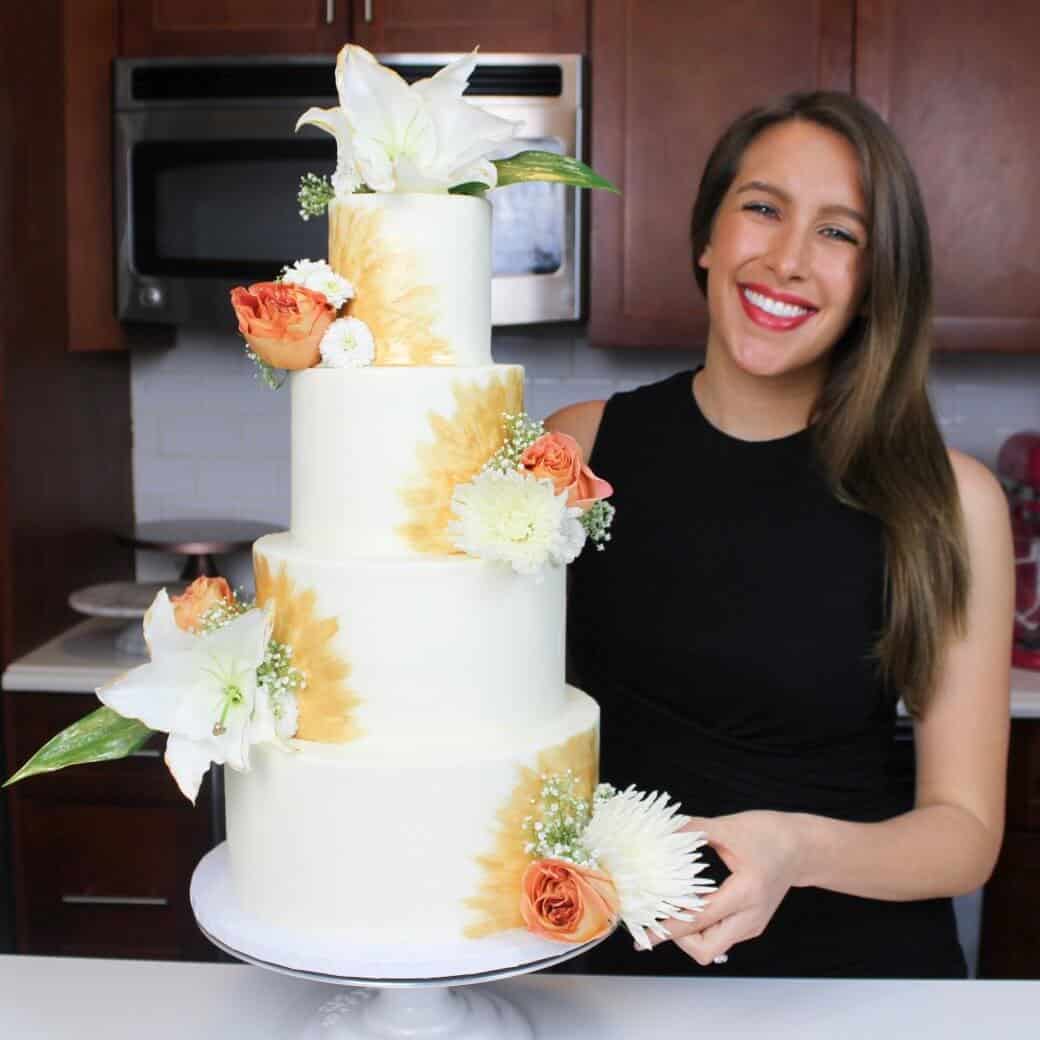 If you've never baked before, and are mainly focused on saving money on your wedding, this might not be the best area to do it.
When money is the driving force behind your decision, it's important to remember that you have options!
There are great alternatives to traditional wedding cakes.
These include making several individual cakes, cupcake displays, donut towers, or even cookie tables (my fiancé is from Pittsburgh).
Experience Making Tiered Cakes
Making a wedding cake is a big commitment. It takes hours of work, a lot of planning, and a specific skill set. If it's a forced decision, it can add a lot of stress to your wedding day!
I feel very comfortable baking, and have some experience making tiered cakes.
While making a wedding cake is no easy feat, I don't feel stressed out thinking about making it because I have done it before.
I highly recommend making at least one tiered cake before you make a decision this big.
It will help you realize the amount of effort it takes to make a tiered cake.
Commit to Making Practice Cake(s)
Whether you have a lot of experience with baking or not, it's important that you commit to making a practice cake.
I suggest doing a test run with the cake flavors and frosting you plan to use. It's also a great idea to test the style of decoration you want for your cake.
Making a test cake makes sure the cake design you have in mind is doable, and will turn out how you picture it.
Sometimes we have a wonderful idea, but the execution of it isn't quite the same 😛
This happens to me all the time, and I fully intend to practice my wedding cake design before my big day.
The saying "practice makes perfect" exists for a reason! Practice will also help increase your confidence.
It gives you peace of mind when it's time to make the real cake.
Making My Wedding Cake in Advance
Another reason I feel confident I can make my own wedding cake is that I plan to make the cake layers ahead of time!
I have blocked off a few days the week of my wedding, to prep the funfetti cake layers and buttercream frosting.
This will allow me to take care of a lot of the time consuming baking before my family gets into town.
Cake layers can be made weeks in advance, if wrapped and frozen properly. Buttercream can be made weeks ahead of time too!
Breaking up the workload also makes the process a lot more enjoyable.
It allows you to take a breather between all the baking. It also gives you time to focus on the decoration of the cake.
This will allow you to put all your creative energy into the design and decoration of your cake.
In the off chance something goes wrong (you burn your cake layers, run out of sugar, etc.), it will also give you time to fix the situation!
Truly Loving to Bake
While this may seem counterintuitive, baking the week before my wedding should help me be LESS stressed out!
I'm a bit of a busy body, and I'm happiest when my hands are busy and I'm working on something.
Baking is extremely therapeutic for me. I think baking will really help me de-stress and clear my mind during the week of my wedding.
There's also such a sense of satisfaction and accomplishment that goes along with making a cake, especially a tiered cake.
Picking a Simple Cake Design
Another factor that made this decision easy? We are picking a very simple cake design! Our wedding cake will be decorated with the fresh flowers.
We plan to use the same flowers that are in the bouquets.
I know that I'm not a master sugar artist. I also hate working with gum paste!
By using fresh flowers to decorate our cake, I'm not going to be killing myself making sugar flowers.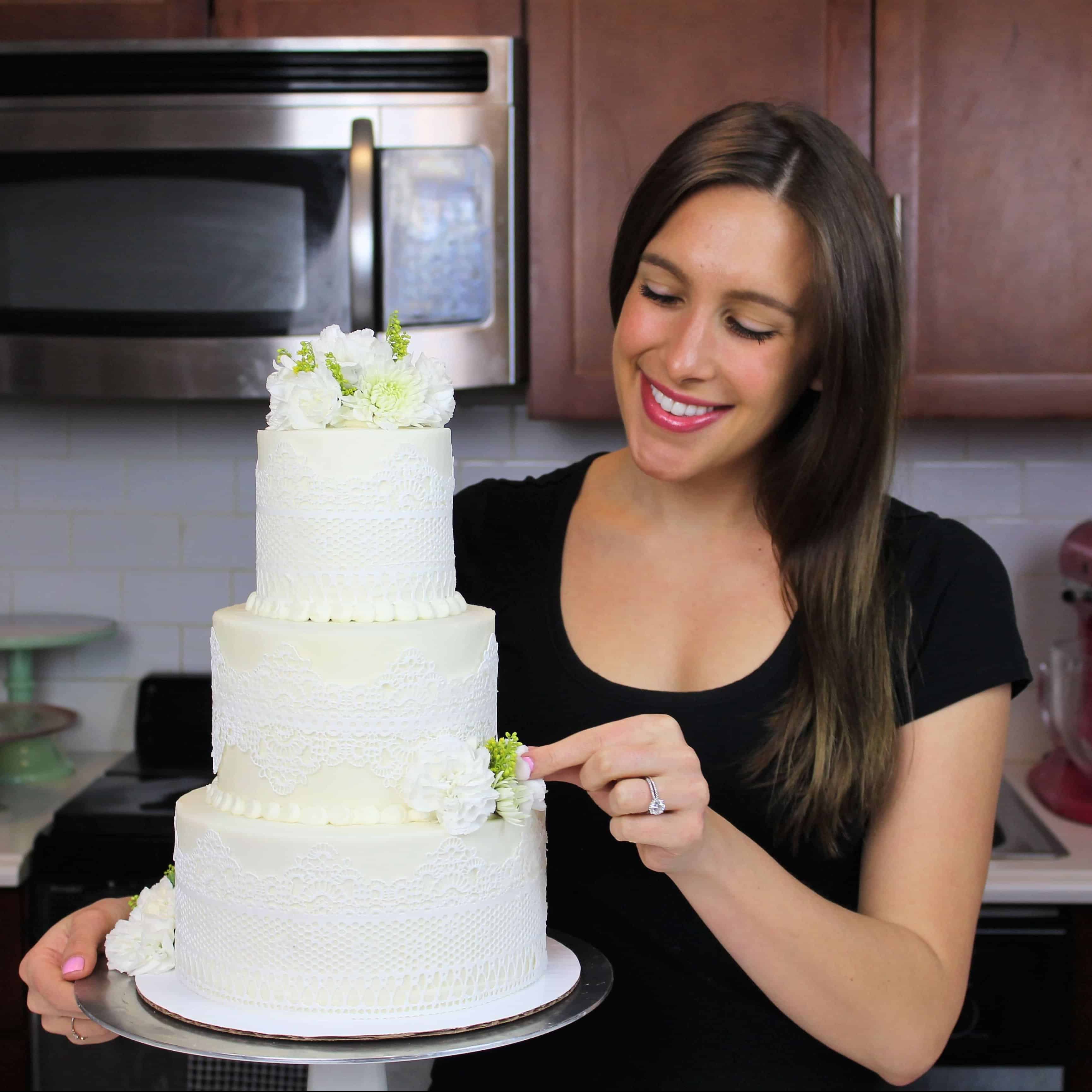 I will simply wrap the stems of the flowers using floral tape, and secure some of the stems into the cake with straws.
I also don't have to worry about painstakingly hand painting details onto my cake the week of my wedding.
It's important to play up your strengths, and be realistic about your skills as a baker.
Things to Consider When Making Your Own Wedding Cake
Once you've made up your mind to make your own wedding cake, there are still some details that need to be considered!
Confirm Your Venue Will Allow Your Cake
Be sure to check with your venue that it's alright to bring in an outside cake.
Some wedding venues will only allow you to work with certain vendors. Others will charge a sizable cutting fee for outside cakes.
We're pretty lucky, and our venue was super flexible with us bringing in our own cake. I
spoke with the manager of our venue, and confirmed I'll be able to drop the cake off the morning of our wedding.
Plan Out How to Transport Your Wedding Cake
Once you've confirmed that you can bring in your own wedding cake, be sure that you have a solid transportation plan in place. You will need a large car, and a sturdy cake box.
Living in Manhattan has made transporting tiered cakes quite…interesting! I've successfully delivered tiered cakes using an Uber three times (knock on wood).
I've also taken the components of a wedding cake (layers, frosting, tools and all!) on an airplane! But that's another story.
In fact, I actually have a separate post sharing how to transport a wedding cake long distances.
I don't have a car, but find that Uber XLs actually work great for cake deliveries. I hop in the back, and hold the cake in my lap until we get to the venue.
If you have a car and need to drive to the venue, I recommend placing the cake box on a flat surface.
For most large cars (SUVs, cross overs, etc.), it's easiest to put the cake in the back or the trunk. Place a non-slip mat under the box, to keep it from sliding around during the drive.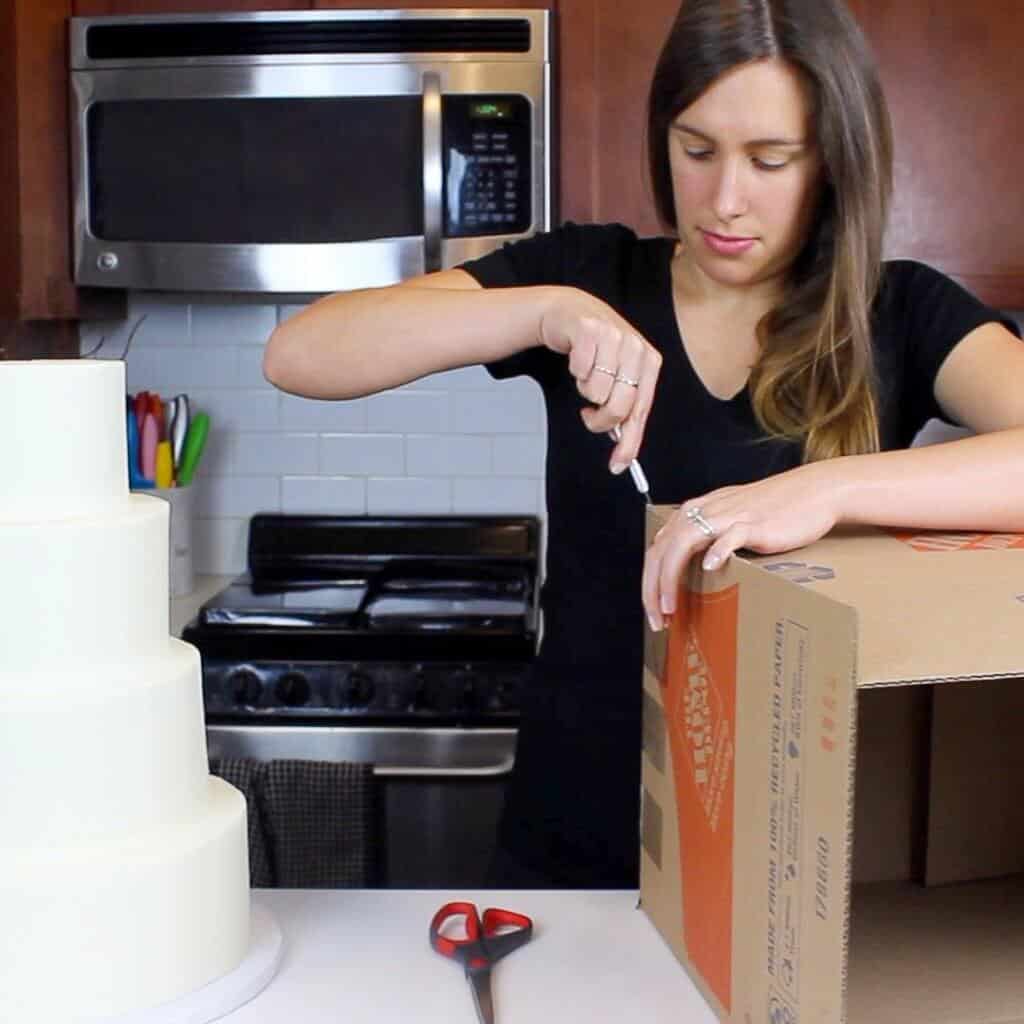 For the wedding cake box, I use large moving boxes that I buy at Home Depot (as shown at the end of the tutorial below!!).
They're extremely sturdy, and cost less than $2! It may not be the prettiest box, but usually no one from the wedding will see it.
Decide to Assemble at Home vs. the Venue
I've found that assembling the cake before transporting it to the venue is usually less stressful.
However, some people prefer to stack the tiers on site. It all comes down to your preference, and your means of transportation.
I like to assemble the cake at home, so I can fill in any gaps between the tiers with the help of some extra buttercream and my spinning cake stand.
It also allows you to do all the hard work before getting the venue. In fact, I usually do this the day before the wedding.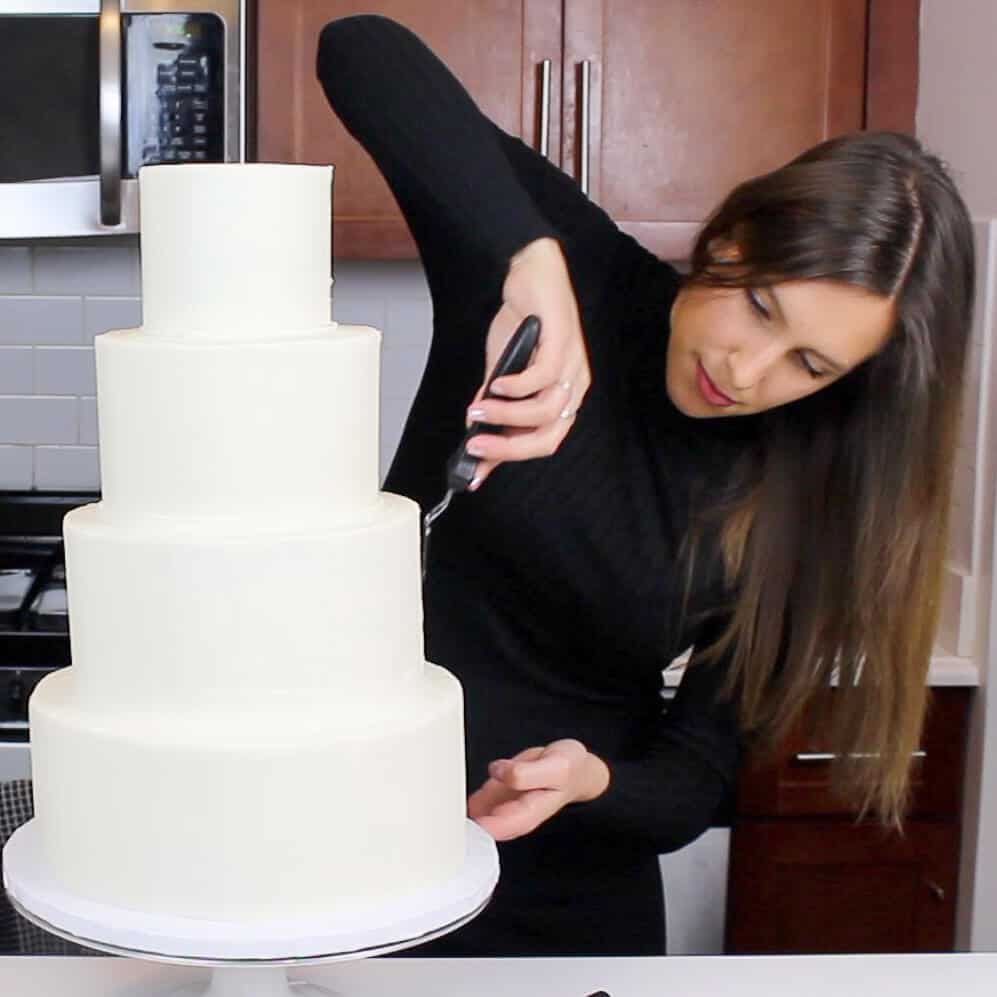 Properly Support and Stack Your Cake Tiers
If you're going to put all this thought and time into making your own wedding cake, you want to be sure it's properly supported!
It's crucial that the cake is built with supports in each tier! Supports ensure your wedding cake can support its own weight and keep its shape the day of your wedding.
Some people use wooden dowels for this, others use bubble tea straws. I know it sounds crazy, but they actually work very well. I prefer to use clear bubble tea straws, because they're easier to cut.
Wedding cakes also usually have a thick central wooden dowel, which helps keep the tiers centered. It acts as a guide as you stack the tiers on top of one another.
The central dowel also keeps your tiers nice and stable.
Below is an in-depth tutorial on how to make a tiered wedding cake. It covers how I like to add supports into a cake, and stack my tiers:
Trying to Pick the Right Cake Flavor
I get tons of questions asking if certain cake flavors or recipes of mine will work in a wedding cake.
The answer is that almost any cake recipe will work! As long as the cake is properly supported and the frosting is stable, you can make whatever flavor you want.
I've made wedding cakes using my vanilla layer cake recipe, my chocolate cake recipe, my red velvet cake recipe, my pumpkin layer cake recipe and my lemon olive oil cake recipe.
Each of the cake recipes above have different structure, but they all worked wonderfully as a wedding cake. I used my stiff american buttercream, and lots of supports throughout each tier, and they were all a success.
Let Me Know What You Think!
If you plan to make your own wedding cake or are making a wedding cake for the first time, I'd love to hear your thoughts!
Please let me know if you have any questions I didn't cover, or if you have any other tips that would be helpful 🙂
Other Posts You Might Like: