The age old question…how much buttercream do I need?? For a batch of cupcakes? A 6-inch layer cake? For a wedding cake?!
This post shares everything you need to know to make the perfect amount of frosting for any baking project. It's basically the frosting version of my cake batter calculator.
The amount of frosting you need varies based on the following factors:
With the help of my buttercream formula and chart below, you'll be able to figure it out in a snap!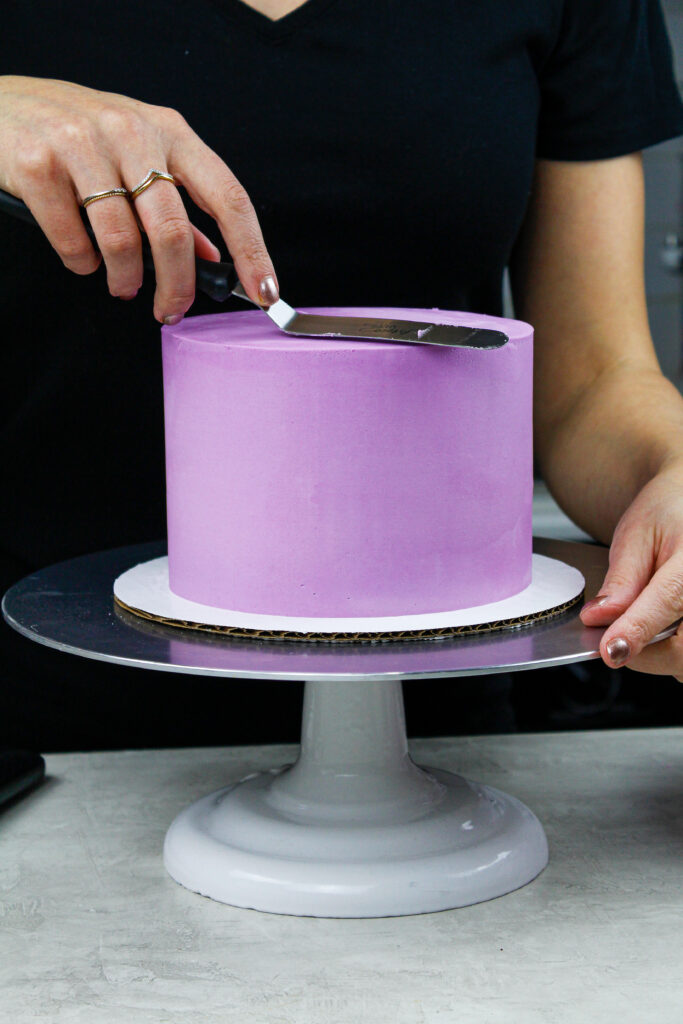 Does It Matter What Type of Buttercream I'm Using?
This guide can be used for pretty much any type of frosting. Whether you're using American, Swiss, Italian, Russian, or even German, a cup of frosting is a cup of frosting.
My only note on this is that I find I sometimes need a tiny bit more American buttercream to make a perfectly smooth cake.
If I'm using a meringue based frosting, it usually is a bit easier to smooth and I can use slightly less on the sides of the cake.
How Does this Buttercream Calculator Work?
Creating this chart meant thinking through what we're trying to calculate.
To know how much frosting we'll need, we need to use the formula of a cylinder, the formula of a circle, and then back out how many cubic inches are in a cup to get to our answer.
With that in mind, the formula I used is:
Cups Needed = ((area of a circle x thickness of the layer of frosting x number of layers) + (surface area of a cylinder minus top and bottom)) / by cubic inches per cup
Or in terms of numbers for a 6 inch, 2 layers cake, this meant:
Cups needed =((pi x r in2 x .33 in x 2) + (2 x pi x r in x h in x .25 in))/14.4 in3
I had to make some assumptions in this formula, including that the outer coat of frosting will be about 1/4 inch thick, and that the frosting layers inside the cake will be about 1/3 inch thick.
This is based on how I actually decorate my cakes! I love thick layers of frosting inside, just like in my death by chocolate cake shown above.
However, if you use a lot less frosting between your cake layers, or if you want to make a design that requires a lot of extra buttercream (like buttercream rosettes) these numbers might need to be adjusted.
If you aren't a big fan of math, don't worry! I've used this formula to create a chart below that's super easy to use. It'll instantly tell you how much buttercream you need 🙂
Step 1: How Big is the Cake You're Making?
The size, shape and number of cake layers will impact how much frosting you need.
In general, I find one batch or about 6 cups of frosting is the perfect amount for a 7-inch or 8-inch layer cake that's decorated with buttercream swirls on top.
I usually have a tiny bit leftover, but it's just about right. This makes sense based on my calculations below!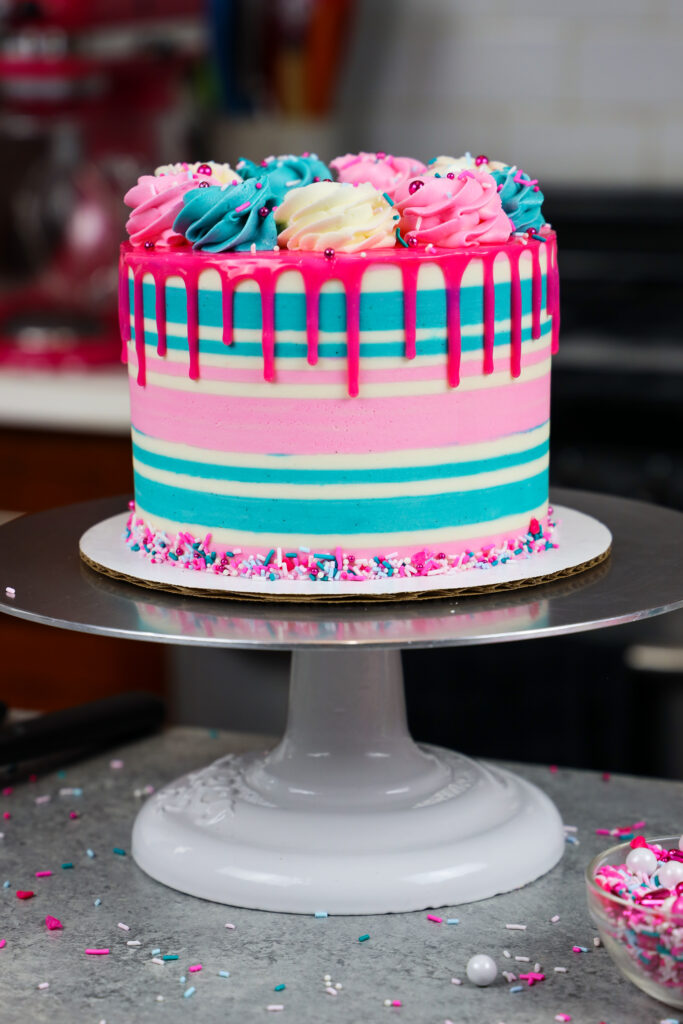 Step 2: Use My Buttercream Calculator to Figure Out How Much Frosting You Need
Based on the size of your cake, use the charts below to figure out how much frosting you need. This is just to fill, crumb coat, and cover a layer cake.
Add an addition 1-2 cups of frosting to the numbers below if you want to pipe large buttercream swirls on top of the cake.
Or if you want to make a frosting intensive design like covering a cake in buttercream rosettes, add an additional 2-3 cups of frosting for a cake ranging from 6-8 inches. It sounds insane, but those designs require so much extra frosting!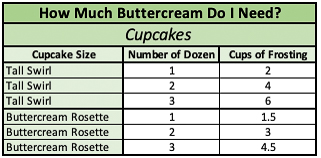 Step 3: How Many Cups of Buttercream are in One Batch of Buttercream?
Now you just need to figure out how many cups of frosting one batch makes.
My American and Swiss Meringue buttercream recipes both make about 6 cups of frosting.
However, it can vary based on the recipe you're using.
Most recipe cards list the yield at the top of the recipe card, or will share it in the notes section at the bottom of the recipe card.
Now that you know how many cups of frosting you need, you can back into how many batches of frosting you'll need to make.
And just like that, you're ready to make the perfect amount of frosting!!
I'd love to hear if you found this post helpful, or if you end up use it! Tag me @chelsweets and #chelsweets on social media.
You can also download the charts above here!
Other Posts You Might Like: